With the rapid growth of no-code platforms, more businesses than ever are looking for no-code developers. No-code is a new modern approach for building apps, websites, marketplaces, MVPs without writing a single line of code by using visual drag and drop interfaces (you can learn more about the no-code approach here). Startups and businesses can get almost every product created with no-code without barriers and limitations.

No-code development can be done by yourself or with the dedicated no-code developer, no-code freelance expert, or no-code agency, whatever suits you best. Our guide is focused purely on choosing & hiring no-code developers.

So, if you need to hire no-code developers or no-code experts, who work with Bubble, Webflow, Tilda, WordPress, Zapier, Airtable, Glide or any other 270+ tools, you will need to follow the same 6 steps:


Give an assessment.
Do the CV sifting.
Check out a portfolio.
Read a cover letter.
Interview the best candidates
Have a no-code expert with you.

First, think about what you are looking for in a candidate to satisfy your startup or business requirement. Second, make a proper assessment and prepare for the interview. This guide will cover each step in detail and other necessary ones to find the best fit. We will also take you through all the reasons for hiring a no-code developer and the benefits you will get with this decision. Let's dive in!


Looking for a
no-code developer
? WeLoveNoCode is the biggest no-code marketplace with 17k no-code experts available to build your product now. Book
a free consultation call
to chat about your requirements!
Top Three Reasons to Hire a No-code Developer

Why would you consider hiring a no-code expert? There are many valid reasons to consider when opting for the no-code developer. We will describe the main three to help you decide if no-code is what you need: it's faster speed, better price, and wide functionality.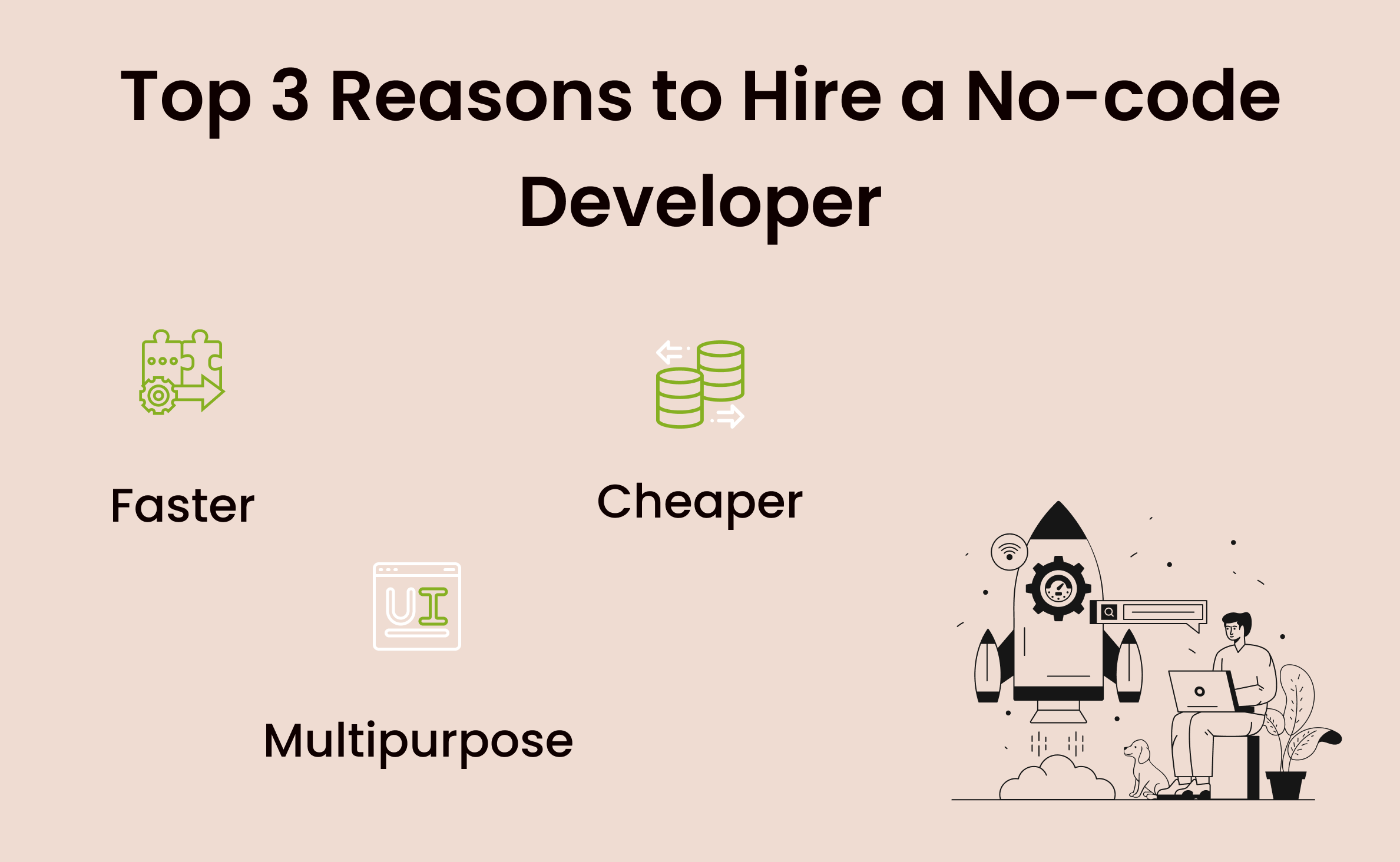 Faster

Speed is key whether you are a startup, small business, or enterprise. The faster you get your product developed, the quicker your first profits. One of the biggest selling points of no-code is speed.

By hiring a no-code developer, you will have an expert who can produce your apps without coding less than half the time with more traditional development. Whether you want to have your app in iOS, Android, or web-based, no-code development will be the fastest option. Developing MVP might take up to a month, while the process with closing would be 3-6 months.



Cheaper

Cost is always a significant factor for any business. No-code is perfect for delivering your project for considerably less financial losses.


The initial build will take less time, saving you hours you'd be paying on traditional developers or dev agencies.
On no-code platforms like bubble.io are to use, there is a list of no-code developers to hire. Their rates are lower because they are not as scarce as traditional developers.
The no-code platforms have built-in features, so less custom work is required, lowering the development complexity and the chances of expensive bug fixing. Try some of our free no-code templates and see how much time and money you can save with them.

Simple MVP, mobile app, or website might cost you up to $4k if you hire a no-code developer. Below you can see pricing for developing no-code product with WeLoveNoCode:


Multipurpose

Need to have an iOS app based on your internal data? Or marketplace to offer your services with e-commerce features? The number of no-code tools is growing exponentially, meaning you'll find the right fit for your project and all the needed features. This range of tools allows you to hire a developer to deliver needed user requirements.

It is also possible to use a combination of no-code tools due to how good the APIs are.


Looking for a
no-code developer
? WeLoveNoCode is the biggest no-code marketplace with 17k no-code experts available to build your product now. Book
a free consultation call
to chat about your requirements!
6 Key Steps In The No-Code Experts Hiring Process

When you decide to build your product with no-code, you need to go via the recruitment process, which has 6 defined step for every no-code hire:


Step 1: Give an assessment. With the popularity of no-code development, you will get more applications than you will be able to interview, so you need an assessment for filtering these applications. The assessment must be related to the product you are working on. The result should define if the developer is suitable for further cooperation. Assessment could be for a specific no-code tool or general tech task.
Step 2: Do the CV sifting. This stage is about removing all CVs that don't meet the minimum requirements. Based on the platform you select, make a list of the basic criteria. Have this keyword list in front of you and ruthlessly verify it each time to stay focused and objective. Disregard each CV that doesn't meet your requirements. Like for typical developer hiring, no-code developer shocul meet needed years or experience and skillset.
Step 3: Check out a portfolio. Candidates should submit a portfolio with built websites, apps, MVPs. Have a look at the quality of the projects. Look for similar style projects to what you plan to create.
Step 4: Read a cover letter. Another requirement should be a cover letter. You risk putting off some no-code developers, but it does show that the candidate is genuinely interested and not blindly sending off a CV. You need no-code expert who will be interested to build you product.
Step 5: Interview the best candidates. Preparation and consistency are the keys to interviewing. You want to have a set of questions that you ask all no-code candidates, so it is easy to compare them when assessing. Think about the information you want to get from the interview and prepare your questions in advance. Having consistent questions also makes it easier to create a simple scoring system. This will help you compare multiple interviews that might be a few weeks apart. It is also a quick way of rating a candidate without remembering all of their responses.
Step 6: Have a no-code expert with you. Try to have another no-code developer on the interviews as they will be a good judge of the answers given. Remember, the interview is a two-way process. You'll want to impress a really good no-code developer with your offer, as the best ones usually have multiple job offers.
With WeLoveNoCode you will get vetted, pre-screened and already interviewed no-code candidates to build your product. Book
a free consultation call
to chat about your requirements!
Bonus: How to Do a Technical Assessment. 3 Best Options

You have interviewed the no-code candidates and seen examples of their work. Still, it is important to see them working on a real test that you and other no-code developers can assess. You'll find 3 methods for running these types of tests.


Give internal technical tasks. This is the one your current no-code developers will trust the most and the one that will be the most demanding. You'll set tasks for the candidates and ask your non-code developers to review them. The main downside is the extra workload it puts on your team.
Use automated assessments. These algorithmic-based platforms have built-in tests for developers to complete and score. They are relatively cost-effective, particularly when recruiting at scale. You need to ensure the platform has specific tests for the no-code platform you are using. Still, the biggest concern with this option is the bad reputation among many developers. Developers generally feel the scoring doesn't assess the skill level and fails to provide objective feedback.
Order a professional examiner. Geektastic is a good compromise to assessments provided by other no-code platforms. It takes the workload away from your internal teams, and the tests are performed by experts. However, they are an expensive option and are usually reserved for larger businesses with ambitious growth plans.
Our Final Thoughts

Developing a new product has never been more accessible for businesses as of now. The main reason for that is the growth of no-code platforms and the number of no-code developers that work on them. If you follow our guide, you'll get some good quality no-code developers on board and focus on building that new product as quickly as possible. Good luck!


Looking for a
no-code developer
? WeLoveNoCode is the biggest no-code marketplace with 17k no-code experts available to build your product now. Book
a free consultation call
to chat about your requirements!