The no-code revolution is not coming, it has already arrived. For the last 5 years, articles have spoken about the increasing influence of this new approach to development but the reality is no-code is now a mainstay of development, utilised by start-ups to fast-growing tech giants.

The industry was estimated to be worth around $13 billion in 2020 and could grow to as much as $65 billion by 2027. For those that are not familiar with all the facets of no-code development and how it can benefit a business, this article looks at what no-code is, why you should consider it and examples of platforms and applications you should be looking at.



What Is No-Code?

No-code development is a popular alternative to traditional development whereby a business can build a website or app without having to write any code.

To achieve this they use a no-code platform where drag and drop interfaces allow you to build your website or app. By using these visual interfaces, it is possible to see where to place elements without having to explain with code where they should be placed.

You will also have options to help brand the app, like adding images and logos, as well as the ability to add a colour palette. One of the key features that help make things easier is the use of templates which all the main platforms use, allowing the user to select a format that gives you a head start.

As they have developed, they are no longer just drag and drop interfaces. They have grown in sophistication to allow more complex apps to be built, including linking to databases and connecting with other applications via APIs but all are still achieved without the user having to write a line of code.

Obviously, there is code somewhere in the background but these no-code platforms aim to allow the user to build their app without needing to see the code, which is being generated in the background based on the actions of the user.

Here are some examples of no-code mobile app development as well as no-code web development.


Minimum Viable Products. Many companies will use a no-code platform to build their initial tool to show prospects or investors before getting expensive developers on board to build out the product using more traditional methods. It allows you to hire affordable no-code experts to build your initial MVP
They are used a lot for building utilities that can save hours of time internally for businesses. Rather than investing in expensive software to manage things like invoice management, a company can hire a no-code expert to build them a cheaper tool that's a perfect fit for their business
A lot of modern web applications are built using no-code tools. Typical examples would be restaurant reservations or shopping apps
It's also possible to build entire mobile apps, everything from a simple real estate app through to a full marketplace. By hiring just a few no-code experts you'll be able to build an app to drive your business
It is increasingly used by HR departments to automate a lot of their processes like staff reviews and appraisals, making them more self-service for the company
Many of the original no-code platforms were designed to let entrepreneurs build websites without any coding skills or to hire an inexpensive freelancer to build them in a few days
The Benefits Of No-Code

Taking a no-code approach to development can help most businesses regardless of the stage they are at because it comes with so many benefits. Let us look at the benefits of no-code development


1. Faster to market

The number one reason most businesses select no-code mobile app development is speed.

No-code development projects take a fraction of the time compared to traditional development. One study commissioned by redhat indicated that it has the potential to reduce development time by 90%. This happens for several reasons.

Less time is spent on recreating basic functions like logins or management consoles, as these are pre-built in the tools
Testing time is reduced because so many of the features are already built into the platform so don't need testing
Finding resources is easier. Traditional developers are expensive and tough to find (and retain) but no-code now has a massive eco-system of developers to hire
Templates can be used, saving time not just on development but also in the design phase
Looking for no-code app developers? We can help. We'll can build any app or website you need quickly and for under $10k. Book a free call to talk about your project!

2. Faster to investment

The other killer reason you'll get to market faster is MVP development. Producing a minimum viable product is vital when you are looking to launch a product or to get investment to grow your business. You need to get interest as quickly as possible and the biggest use of no-code platforms is MVP development.

Development is speeded up because those owning the product (product team or founder) can express their requirements directly in the platform. By having people other than the developers involved in the design phase, realistic user stories are built, you won't be wasting time coming up with ideas the platform cannot deliver.

Most start-ups looking to build their MVP won't have a large development team and will probably be using external resources, like freelancers. No-code makes that an easier relationship and it can be completed with less back and forth.



3. Cost-Effective

No-code development is ideal for anyone working with tight budgets, this is for several reasons.


No-code developers won't cost as much as traditional developers. They are easier to find, meaning you are not paying higher prices because of the scarcity of talent
Projects will be completed faster, meaning less time spent paying for developers
As you can get other members of the business involved in different stages of the development, you won't need as big a team. Chances are by hiring 3 or 4 no-code experts will be enough to build a product

For example, it is estimated the average cost of developing a minimum viable product via traditional development routes is $75,000 but with no-code, it is likely to be a maximum of $10,000.


4. Flexibility and Agility

The nature of no-code platforms means that if you want to change a particular function, it is a case of looking at alternative options and putting that in place. With traditional development, as so much work is hardcoded, all changes need to consider what else will be affected by the change - with no-code that thinking has already been built into the platform.



Who Should Use No-Code?

No-code platforms allow anyone to become a 'citizen developer', which means all businesses can make use of cheaper and faster development, but clearly, some will benefit more than most.

The most obvious type of company is a start-up. Most will be lacking in funds at the beginning, so a low entry option is ideal and allows a non-technical founder to hire cost-effective no-code developers much faster. This is key so they get to market faster, either to generate revenues or show to potential investors.

Similarly, most small businesses will benefit hugely from no-code web development. It enables them to produce a product with a smaller team and to include all members of the business, as well as some no-code expert developers, in the process.

Any business that is looking to test out different propositions as part of the market pivot will also benefit hugely from going down the no-code route. They will be able to develop MVPs to test in the market on clients and prospects and quickly understand what will and will not work. This enables them to make more informed choices and feel safer as they look to change direction.



A Note Of Caution

It cannot all be perfect otherwise everyone would be using it. There are a couple of things people should be aware of before making a final decision on no-code.

Switching isn't easy - all platforms are different and moving your app from one to another is not an option, so you must pick the right platform from the start. Fortunately, this is where we can help at WeLoveNoCode, get in touch and we can advise on the right platform and where to find the best no-code experts for it.

Limited Customization - part of the reason for choosing a no-code platform is to avoid complex code but that does mean you are a bit more limited with options. Many of the platforms are making it easier to add custom code on top of the core functionality and most good no-code experts know how to utilise these functions.



Examples Of No-Code Platforms

Whilst each platform comes with its strengths and weaknesses, some are more tailored towards different solutions, so you should list out your core requirements before embarking on choosing the platform for you.

Here are a few of the best ones we've used but for a complete breakdown of all the major no-code platforms on the market, then we have you covered here.


One of the oldest and definitely most evolved no-code platforms, Bubble is a great all around tool that will work with most requirements. It is an ideal choice for creating more complex web and mobile apps.

We loved it so much that we built our own platform using it!





Possibly the best choice when looking to build a website that's out of the realm of builders like WordPress. It is ideal for marketplaces and more complex sites, with an easy to use CMS. Web designers love to use it, as it comes with so much power automatically built-in, allowing them to focus on how the site looks.






As their home page states, time to stop making mockups and build real apps instead! A simple to use platform that can turn your ideas into a functioning app within weeks. It might lack some of the complexity of platforms like Bubble but if speed and ease of use are critical at the early stages, this is a great option






With Betty Blocks you can build apps to cover important business processes without the need for any coding. It is a powerful and well-supported platform that is popular with enterprises. The platform is one of the best if you are looking to get going fast but then build custom code on top to expand capabilities.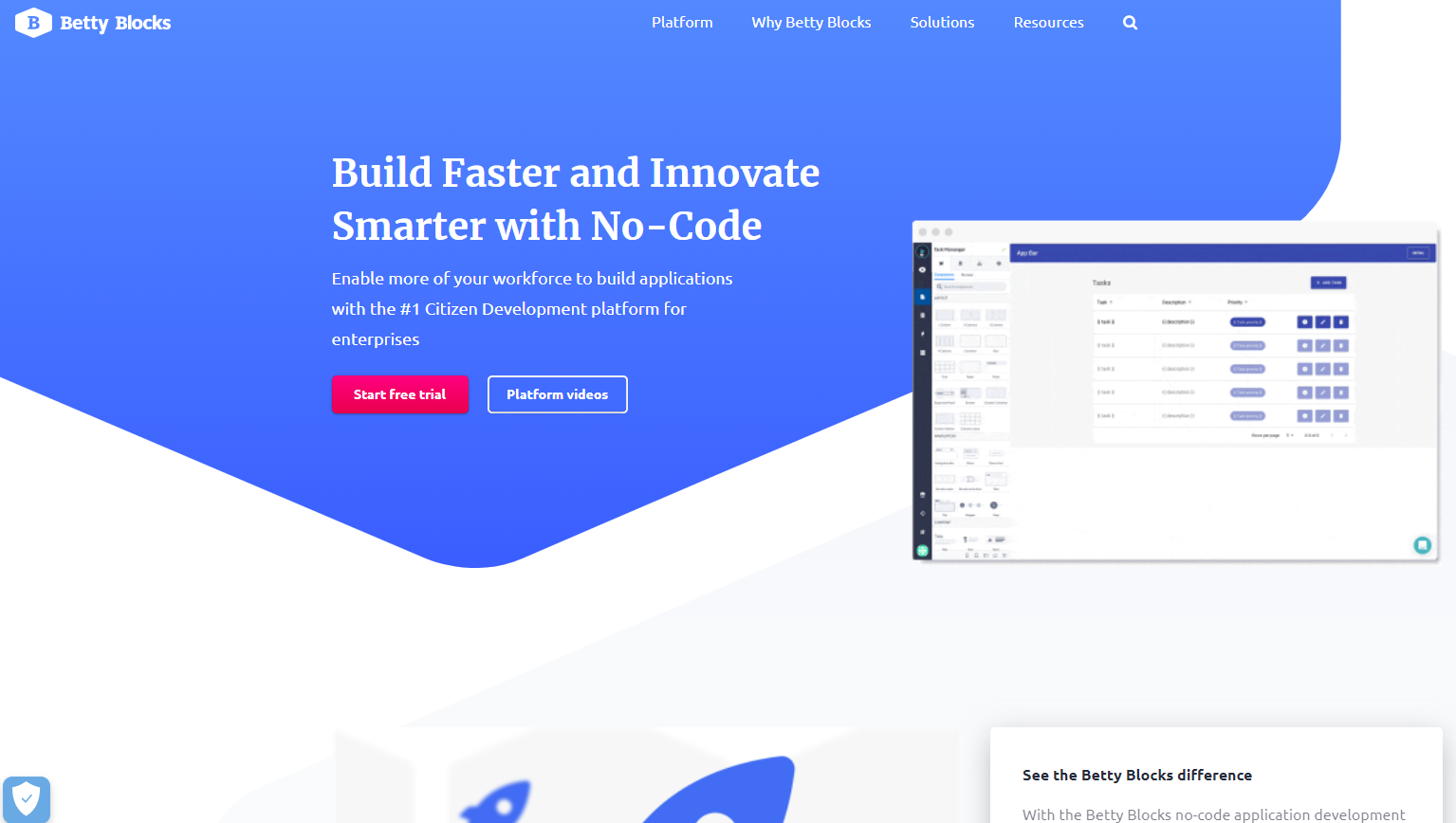 Features To Expect

Whilst all the platforms are slightly different, there are some consistent features you would expect to see in all of them.


A drag and drop interface that allows you to build exactly what you need and include the features you want
Data connectors allowing you to connect with an external database or some platforms will have an inbuilt database to utilise
An interface designer that allows you to construct how you want the app to look and style it
The ability to add in your content. Most templates will come with content pre-configured but then allow you to change as required
The Future?

So what is the future for no-code development? In short, prosperous! It continues to grow in popularity and with more platforms being built and the percentage of apps getting developed this way only increasing, the level of sophistication is growing all the time.

The scarcity of developers has led to a requirement for a more cost-effective approach to development and one that does not have to rely on recruiting and paying for these highly prized but expensive coders. This need has created the vacuum that no-code platforms are filling.

The key next stage is about the continued scalability of the applications built using no-code. As they get used by larger and larger companies, they will start to handle larger datasets, more custom code and new capabilities. One thing is for sure, it's not going away. As Chris Wanstrath, CEO of GitHub is famous for saying.


"The future of coding is no coding at all"
Looking to get on board the no-code revolution? We can help. We'll can build any app or website you need quickly and for under $10k. Book a free call to talk about your project!