What if you want a combination of spreadsheet, database, automation app and no code tool, all in one? Meet Airtable, a low-code platform that can speed up your workflow dramatically in all areas of your business: project management, marketing, design, strategic planning.

Airtable covers standard project management features and offers equal visual capability of tools like Canva. It makes project management a more creative and collaborative experience rather than a formulaic and boring process. Airtable is also the perfect low-code tool for managing your marketing and graphic design projects. If you would like to check out more no-code tools to build or manage your project, here are a few of our favourities. But before we get ahead of our selves, let's begin with the question below.



Firstly, is Airtable for you?

Airtable is useful for founders, marketers, project managers, or anyone from a non-technical background who really needs to arrange data or manage projects. Talking more granular:


For HR & recruiting professionals Airtable can be useful as an applicant tracker, employees directory or team org chart.
For product or design teams Airtbale has features that include product planning, features prioritization, user feedback docs, design project templates.
PR and communication teams can benefit from Airtable as their tool for managing content (CRM), handling media lists, and planning PR outreach.
Airtable is also good for personal use, managing your vacation planning or keeping track of your hobbies.

So, Airtable is the right tool if you are looking to creatively collaborate with your team while maintaining transparency with your clients during the task. If that sounds relevant to you, keep reading!



How powerful is Airtable? Let's talk about features

Airtable covers most of the customary features you expect from a project management software. It combines them in an attractive interface that is enjoyable to use. This tool doesn't have an internal chat system but considering other extensive cooperative responsibilities, you aren't missing much. While Airtable features are very wide, we'll cover the ones you might need from the start: security, management & planning, documentation & collaboration features, last but not the least, budgeting features.


Security features include, Single Sign-On (SSO) integrations, Two-Factor Authentication (2FA) and Advanced account permissions. Airtable incorporates multiple mega SSO providers, such as Google Authentication, Okta, One Login, Azure AD, and ADFS. With Two-Factor Authentication Airtable allows you to have further identity verification through 2FA. Also, Airtable protects your database by using granular permissions controls to limit access to only the authentic users.
Management, planning & budgeting features include, task scheduler and prioritization, automation, shared team calendar, resources management and time tracking. Budgeting features come to dashboard and budget reports. Budgets in Airtable are designed through custom spreadsheets that can be downloaded into their projects
Documentation & collaboration features include, documentation storage. Each task in Airtable offers users to save all kinds of task material including PDFs, documents, images, videos, and additional spreadsheets. Collaboration features come to communication, team dashboard, mobile application and real time changes.
How to use Airtable in simple words?
The dashboard

Let's talk about the main parts of the Airtable user interface. Here's how your dashboard will look once you complete Airtable's onboarding process. Let's go over every bit of your dashboard.


Top navigation

Initiating from the top, you will find a navigation bar with Templates, Bases, Universe, and Marketplaces:

Bases: Short for the database — this is Airtable's word for what another application may call a spreadsheet. No matter what you're creating in Airtable, you will be performing it in a base. Clicking here will move you to the workspace. This is where you will find all bases after you have created a few.

Templates: Confused about where to start? Airtable offers database templates for your convenience. You can choose templates for creating a product launch, video production or blog calendar, and anything else you can imagine.

Marketplace: Do you need more from your base? Airtable's marketplace is filled with apps, integrations, and other applications designed to please even the most selective power user.

Universe: Airtable Universe is actually Airtable's community. Here, you will see your team members sharing their templates and projects. You find opportunities for teamwork, templates custom-made to your use case, and more.

You can now go back to your workspace — or bases — by clicking on the Airtable logo or bases at any time. Now let's have a look at the menu on the left.



Left-hand menu

The menu to the left on your dashboard has three elements: workspace, search bar, and learning process. Each section has its own function.

The search bar: After you have created a few bases — or you are a part of multiple workspaces — the search bar is the fastest way to find what you are looking for.

Workspaces: If you are a part of a company that uses Airtable, you will probably be in multiple workspaces. For example, welovenocode has workspaces for the product team, data team, marketing team, and more. In this menu, you also access the Trash, where you will find workspaces and bases deleted in the last seven days.

Learning and resources: Once you know the basics, you can find additional guides and tips from Airtable. You will find Airtable's webinars, help center, and more resources to help you.



Need help with building your app without coding? We launched 2000+ MVPs & apps for companies all around the world. We'll make your app live in a few weeks and under $4k with the power of no-code. Book a free consultation call to chat about your requirements!

My first workspace

When you sign up, Airtable automatically creates a workspace for you and invites you to design your first base. You have three options: initiate from scratch, import a task, or use an existing-template. Creating a base from scratch will give you the most control over your project, but it might be more challenging if you are just starting out.

Airtable's import option permits you to use pre-existing data from multiple sources, including Microsoft Excel, CSV files, Google Sheets, even work management tools like Trello and Asana. Alternatively, you use one of Airtable's existed-templates, designed for specific use cases.
Let's see what it looks like to create a base from scratch and from a template.



Base from scratch

First, be sure you are initiating on the dashboard. From here, you will click on Create Base. Now, you will get a pop-up requesting you to name your base and provide it a color. You can use an icon to distinguish it from the rest of the bases you will add to your workspace.



That is all, it takes to make a new base in Airtable. Now a default base will have four columns: name, attachments, notes, and status. You can use these fields to make a basic database. But since tallying new fields to Airtable is super easy, let's add assignee fields and due dates. You add these fields by clicking on plus at the right of your columns.

For your due date, you will just add a date field. Then, for the assignee, you will add a collaborator field.



Now you will fill each field with project information.



And just like that, it is a simple way to keep records of personal tasks. If the workspace has more than one collaborator, it can keep a whole team's project here. Airtable has flexibility, you can add to change the way you see crucial information. People use a Kanban board to track these tasks.

Since Airtable knows this is your first base, it will helpfully place these options at the bottom left. If you click on Kanban and choose to group your tasks by status…



Just like that, your task will be organized on Kanban Board. This convenience makes Airtable so efficient than a regular spreadsheet tool.

Now, what if your use case is more challenging, and you don't want to cover extra miles to set things up? That's where Airtable templates come in.




Making a base from a template

Let's say you're planning an important virtual event for your company. You want to stay managed and you are using Airtable to do so. If you move back to your workspace, you will see that Airtable has a template just for event planning.
Click on that template.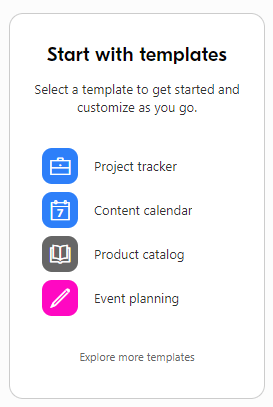 And in a second, you get a featured base with multiple views, all the essential fields created and even some example records to show you how the template is used. Airtable has a quick tutorial that walks you through these features.

There are multiple templates to select from that cover for every aspect of your company. Need an editorial calendar for your blog?




No matter what your use case is, Airtable's templates offer the ability to set up a base that works for you in a few clicks.




Airtable's pricing: is it worth it?

Now, when we have talked about all main features and functions, let's check the pricing. Airtable would is more suitable for creative teams that deliver services or products to clients, such as marketing agencies or graphic designs.

Free: offers unlimited databases, mobile app, 2GB attachment space per base, 1,200 records per database

Plus: $10/per month. It includes a mobile app, unlimited databases, 5GB attachment space per base, 5,000 records per database

Pro: $20/per month. It includes unlimited databases, a mobile app, 20GB attachment space per base, 50,000 records per database, user permissions, custom branded forms, and advanced calendar features

Enterprise: Exchanged with the client. It includes a mobile app, individualized onboarding and training, advanced calendar feature, unlimited records per database, unlimited databases 1,000GB attachment space per base, custom branded forms, user permissions, dedicated customer service, and unlimited workspace

Airtable proposes a free version of the tool, which is finer than some of project management applications. However, once you jump onto the paid options, the per-user, per-month pricing structure adds up quickly.



Need help with building your app without coding? We launched 2000+ MVPs & apps for companies all around the world. We'll make your app live in a few weeks and under $4k with the power of no-code. Book a free consultation call to chat about your requirements!

Conclusion

Airtable's magic is in its flexibility to adapt to whatever you need to organize. This low-coding tool is very customizable and offers apps, automations and integrations. Airtable is designed for collaborative work within teams. When starting out as a founder with no technical background, tools like Airtable are your best bet.