More people depend on online tools, platforms, and devices to manage their daily lives in the current digital era. One of the industries entirely operated through online channels and technologies is the educational industry. E-learning platforms constantly provide new solutions and innovative approaches to the teaching process.

E-learning is beneficial not only for professionals but also for a vast community of makers, who can earn by sharing their knowledge via:


Design, development, no-code long-term courses;
Short video lessons on how to achieve a specific task: how to build MVP with no-code, how to scale marketing, or how to use no-code tools;
Live or on-demand webinars on various topics, everything from how to launch on Product Hunt to how to build a marketplace on Bubble.

As a result of numerous platforms, education providers and makers find it challenging to choose the best fit that won't require a technical background to manage the process. Today we will review one of the e-learning no-code platforms called Uteach.




E-Learning Management with No-Code

People who share knowledge and skills online usually do not have a technical background to carry website development and operation. That is why no-code solutions come handly.

Let's talk about no-code platforms to create personal e-learning websites within minutes and without a technical background. An example of such a no-code platform would be Uteach, a website builder for education providers, where online creators can generate their websites with a few simple steps.





Uteach Full Review

Uteach is an easy-to-use no-code platform to start teaching online through advanced tools developed especially for e-learning management. If you want to get the best of e-learning, you may rely on features to help you create a website, publish & sell courses, create quizzes and certificates. Let's talk in more detail.



How to Generate a Website with Uteach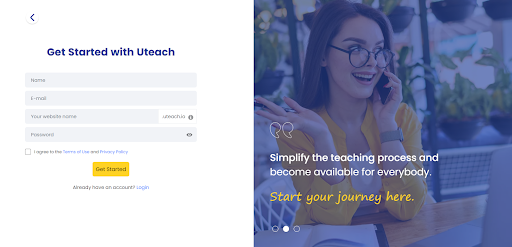 Creating an e-learning platform has never been such easy. You can generate your no-code website within a few minutes. There is a design templates gallery available. Here you may choose one of the samples that best fit your business needs. And still, you may update it, making it more appropriate to your preferences. The easy-to-use page builder makes it instant to create and edit pages, complete the required updates, add different design elements, change fonts and colors, and do even more. So, it is already possible to create your dream page design which will always be editable for new changes you will find appropriate and required.



Publish and Sell Online Courses with Uteach

Many learners rely on online courses as this is a fast, comfortable, and effective way of learning. Moreover, online courses are preferable today as people may learn anytime and anywhere. Websites created with Uteach come up with online course features. Website admins and authors can log in to the dashboard and design courses. The course builder is very easy to use. It is possible to develop course sections and upload already recorded videos. Each video lesson may include attached files. The course may be free or paid.



Create Quizzes with with Uteach

Learners like to check their level of knowledge—websites created with Uteach offer this feature. The quiz builder is very simple and straightforward. You just need to add the questions and prepare the material.

There is also an opportunity to save time with an automated checker. When creating the quiz, you mention the correct answers so that the system automatically checks the quiz and provides reports of the results. It is also possible to attach the quiz to the course in one click.



Give Certificates with Uteach

Creators can choose a certificate design, add their preferred texts, logo, and signature, and get a certificate to award the students.

When the author attaches a quiz to a course, they may also provide the amount required to answer correctly to pass the quiz. And the students who successfully gain the passing score get an automatically generated certificate with the school logo and the author's signature.



Conduct Webinars with Uteach

Organizing live training and scheduling each lesson in advance is also possible within this no-code e-learning platform. It is no longer required to create online meeting links every time on Zoom or any other platform and send them to the students individually. Instead, all you need is to schedule all the lessons in the overall training and invite students.

People may also get an opportunity to find the training on the host website and join the lesson. All the registered participants will get automatic notifications as reminders. In addition, the overall training may have one or more speakers, and it is also possible to attach assignments and additional files.



How to Get Started with Uteach?

Everyone who desires to share knowledge and skills and wants to go along with the current innovative trends may rely on Uteach. This platform offers monthly and annual subscription plans with a free trial. And there is also an option of a completely free subscription.

You need to register on Uteach, providing your name, email address, and domain name. After confirming the email, your website will be created within a few minutes. Once done, you'll be able to visit your chosen domain and make use of all the features included in your subscription plan selected. Very easy, fast, and functional.

As a no-code e-learning website builder, Uteach has a mission to increase the quality of online learning and to make professional e-learning available for everybody - whether you are a traditional school teacher, marketing consultant, fitness trainer, or makeup artist.


Need help with building your app without coding? We launched 2000+ MVPs & apps for companies all around the world. We'll make your app live in a few weeks and under $4k with the power of no-code. Book a free consultation call to chat about your requirements!