Are you looking for some inspiration for your future project which would be easy to build with the help of no-code tools and platforms? You are at the right place. We will help you find a suitable business idea that you can easily build and generate $2000+ per month with it (or even more).

You don't even need to know how to design or code, or have some extraordinary skills, or previous business experience. You might find your unique offering by proving something you already do great and love doing. Our article will help you shape your hobbies and skills into something which will bring you money online and available no-code tools will help to make it really fast.

Explore the 20+ best ideas for doing an online business that you can start building today without any coding. We divided all insights into three parts: selling your knowledge, selling custom services, and products. Let's go 🚀!


If you want to have a trustable partner
to make all your ideas live
with no-code, we can help you.
WeLoveNoCode
is the biggest marketplace to hire no-code developers, who can build any business idea fast and affordable with the power of no-code technology. Want to learn more:
book a free consultation call.
Part 1: Sell Your Knowledge as Profitable No-Code Businesses Ideas

Let's say you have 10 years of experience in nutrition or have figured out how to grow a Twitter audience, or you have super cool knowledge of plating exotic flowers. Or maybe, you traveled to 66 countries and you can help others to do the same!

Whatever it could be, you definitely know something which other people might find valuable. Your knowledge can become tutoring of planting flowers, courses on becoming a Twitter influencer, a masterclass for digital nomads, a blog post on top nutrition tips with paid nutrition plain inside, or even online school on any given topic. No need to reinvent the wheel. Those ideas can be built without code are they are all around you.

Research which areas of knowledge are in demand in your community. Can you meet the needs of people looking for answers which you can address? Find the answer and then take an action. Typical formats for selling knowledge as no-code businesses ideas would be:


The online courses (could be built with no-code educational platforms)
Master-classes
Online school
Blogging (can be done with no-code publishers like Medium or Ghost)
Business consultations (you need Zoom, Calendly, and Gumroad)

Let's dive deeper into ideas built without code (here you can learn what is no-code).



The Online Courses as Business Ideas Built Without Code

Do you have some special skills in demand? If the answer is yes, you can convert your knowledge into a project by sharing it with others. You can market your course on existing platforms and become a successful teacher. This is a good option to earn money. Get ready to prepare videos, and do the fine-tuning/editing of each video lecture. Platforms like Udemy, Teachable & Skillshare are available to launch paid courses.

Use your social media profile to build an audience. Remember to make substance-based, quality videos with original, useful content.



Master-Classes & Webinars on Demand

There's another way to earn from your lectures/lessons. Instead of loading your videos on a platform, you can hold a masterclass or webinar through online video conferencing tools. Create a website for promoting the masterclass, and target a specific audience. You can make an email database of people who might be interested and send notifications to them about your new events. Also, use social media contacts to inspire others to seek knowledge. You can find many more ideas on where to get users in our free e-book "Marketing for startups".


Online School as a Way to Make Money Online

Here is another income-generating idea that you can implement without coding. Create an online school and teach your favorite topic, for example, English for kids in Ecuador.

You can host your courses and the masterclasses virtually and pack them in one place. Check out how others are doing a similar project, for example, Reforge. Another example would be Memorisely. Founded by Zander Whitehurst, it has a good reputation and a big inspiring online UX boot camp.

Visit these sites and get a comprehensive showcase for establishing an online school. Convert your knowledge/skill into a marketable curriculum of your niche subject, design a website and approach the public/knowledge seekers. Use all possible social media channels to tell about your project to a wider audience, do things that don't scale to get learners.



Blogging as a No-Code Business Idea for Beginners

Make extra money from blogging. There are different ways you may do it. One way is to set up a blog on no-code platforms WordPress, Webflow, Medium, Ghost, Tilda, or Squarespace to get the traffic. For example, our blog was purely built on Tilda: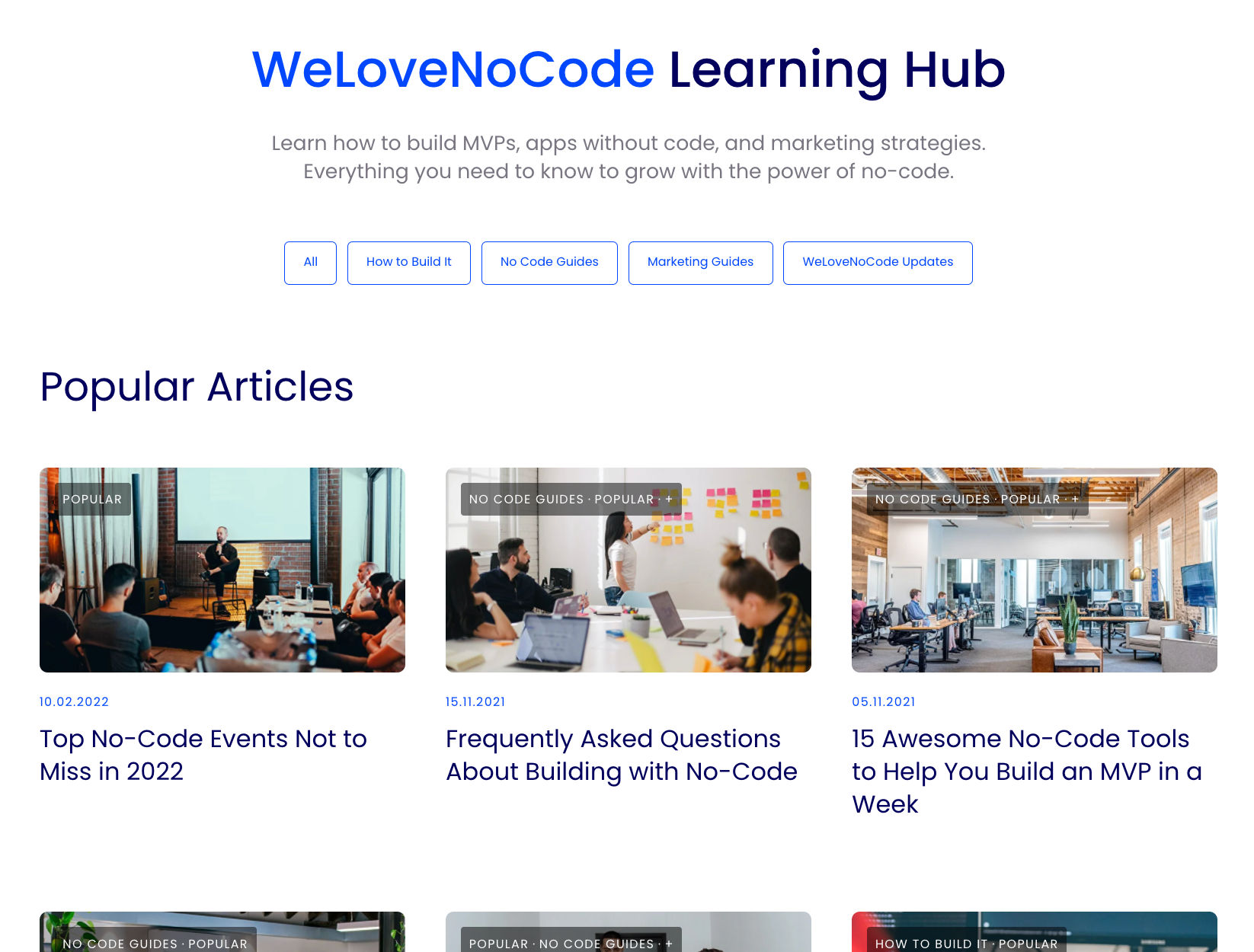 Make sure to follow the SEO ranking standards and use digital marketing techniques for increasing traffic. Use Google Ads & other affiliates to start generating income by blogging. Boost your project with regular emails & newsletters. Another option is becoming a copywriter and offering your services to various companies as a ghostwriter. Different freelancing platforms are at your fingertips to help you start, like Upwork, Fiverr & Pay per Hour.



Online Consultation

You have knowledge & experience. Promote your expertise through social media & other sources to offer business consultation. Create your website, and present where you can with your expertise. You can create your website with many no-code tools and take payments with online low-code platforms like Gumroad & others.

Don't ignore it because clients need to know with whom they will deal. Later you can invite other experts in your field to open a consulting agency. Big companies are attracted to such agencies and are ready to pay for professional help.



Freelancing as Fast Earning Option

Small or large business entities outsource specialists to decrease expenses. It is your chance to use freelance platforms that connect freelancers and customers with each other. Make an impressive profile, showcase your portfolio and find a project at an agreed price. Whoever you are: web developer, writer, editor, graphic designer, and SEO expert, you can find work as an outsource preprofessional. Learn highly marketable skills, like web-designing, app developing, SEO, social media marketing, ghost-writing, or copy-writing. It will help you to always be in demand.

Also, you can become a no-code developer, as this industry is growing super fast. We even have free courses for no-code programmers, feel free to join them!#nbsp


If you want to have a trustable partner
to make all your ideas live
with no-code, we can help you.
WeLoveNoCode
is the biggest marketplace to hire no-code developers, who can build any business idea fast and affordable with the power of no-code technology. Want to learn more:
book a free consultation call.
Part 2: Sell Services Done Without Coding

You can live in Bangladesh and provide services for someone in Australia. Services done without code are numerous: video editing, affiliate marketing, podcasting. The initial expenditures are almost zero. All you need is a good computer, a strong Internet connection, and access to free no-code tools. Here is a list of no-code services you can implement using these tools:


Video editing services
Personal newsletters
Affiliate marketing
Sponsorship via your network or YouTube channel
Podcasting
Promote Your Video Editing Services

If you're not interested in delivering video lectures, learn video & sound editing and offer video customization packages. Each can include video/sound editing alone or other additional services. Actively advertise yourself on social media & your website. The freelance market platforms like Upwork & Freelancer.com list many jobs related to this skill. You may also promote your services extensively on LinkedIn, Instagram, Facebook, Tik-Tok & even Twitter. More connections you make, the more chances for success you get.

Also, it's easy to build your own portfolio website featuring your editing words using no-code platforms like Carrd or Tilda.



Make a Personal Newsletter

Not so commonly used, but a popular way of making money is the newsletter market. Today, the start-ups, all kinds/levels of businesses & influencers are approaching their potential customers by regularly issuing & sending newsletters through emails. Newsletters don't go unnoticed.
Use the no-code platform like Substack, which provides email lists, sites & other tools.

Make money by sponsoring companies, that target your readers. Typical sponsorship could be from $50 to $1500 per banner/mention (depending on your readers' subscription base). Preferably, make newsletters on your own.



Start with an Affiliate Marketing

Suppose you write a content/newsletter and create an online group or YouTube channel to reach a maximum number of people. You can add an affiliate marketing link to enhance your income. This type of marketing is a proven way to earn. Remember to provide respective affiliate links to your customers/followers. Offer only useful links to your audience; otherwise, viewers will lose interest in your content.



Become an Influencer and Work from Home

Your online community & followers provide business opportunities. Set out your niche, and make groups and communities. Become a micro-influencer in a specific niche. Even having a couple of thousand followers, you can still earn some money. Put some extra effort, gradually take new steps, and make more money with a loyal community on board. You can also establish a community on a popular site & use affiliates for your niche.



Create a YouTube Channel You Can Start Now

YouTube is one of the most-visited social networks and a great source of income. Look into your niche & open a YouTube channel. But remember, it is not easy. You need to constantly put a lot of effort into attracting new viewers. The competition out there is fierce. Stand out from the crowd with useful and original content. For example, you can start a video channel about your startup journey or about learning no-code.



Launch Video-Editing of YouTube Channels

Well, you're an expert in video editing. It's a great skill to attract YouTubers. Many video-makers on YouTube are looking for someone to edit their works professionally. Sell these skills here and make money. Visit freelance platforms like Fiverr & Upwork & grab new orders (as you would find out soon, there are a lot of great platforms for freelancers).#nbsp



Do the Podcasting

With a minimum investment, buy a good quality microphone, audio & call recording software. Otherwise, use free software like Audacity for advertising your podcast. Use YouTubers & micro-influencers to start writing relevant comments on the videos & posts. It will make you a part of the trending discussions. That is how you can convert the audience into subscribers and loyal followers.



Edit Podcasts

Learn video & sound editing skills and offer podcasters or freelance marketers these services. This is an additional earning option if you're already doing the podcasting. It's a big market, with a lot of inter-connected opportunities. You can start by having a profile in Fiverr or Upwork. After, create a website to showcase your best works in a portfolio.


If you want to have a trustable partner
to make all your ideas live
with no-code, we can help you.
WeLoveNoCode
is the biggest marketplace to hire no-code developers, who can build any business idea fast and affordable with the power of no-code technology. Want to learn more:
book a free consultation call.
Part 3: Sell Products, Start Business with only a Laptop

Dropshipping and other types of trade are very popular nowadays for reasons. They are business models in which a third-party company fabricates, supplies, and transports goods on your behalf. All you have to do is to market and promote your business. The key here is to sell items from various suppliers, provide high-quality service, and select a suitable target audience for the product. These business ideas will cover:


Selling digital products
E-commerce shops built without code
Product reselling
Creating subscription boxes
Dropshipping
Digital Products

The digital market offers many products nowadays. But only premium, high-quality items stand out from the crowd and get selected. That is why the scope of business opportunities is still vast.

You can sell various digital products like templates, videos & audio samples, eBooks, stock images, graphics, presentations, NFT etc. You can build your own platform to ell products with no-code tools like Bubble or Softr. Once your product gets launched, it's a regular business model for long-term income. All you have to do is stay determined and keep your products up-to-date to meet the needs of customers.



E-Commerce Shops Built Without Code

Powerful online platforms like Amazon, Etsy, Instagram Marketplace & other popular places can be your starter pack. Get to one of them, watch the visitor's shopping & selling trends and make your own online store.

Also, you can start with a professional website done with the no-code builder. Choose a clicking domain name, focus on SEO optimization, launch your store and grow the consumer base, primarily through social media. Your income will depend on the business strategy and motivation to implement it.



Reselling of Products

Ideas built without code can include reselling of various products. Analyze platforms like Depop, Poshmark, Amazon, eBay & Etsy for product reselling. These can be clothing, jewelry, home decorations, or even car spare parts. The key here is to sell useful niche products and catch customers' attention via suitable advertising channels. You can also boost income by allowing other resellers to use your store as a marketplace.



Subscription Boxes

Launch an e-commerce store to collect items for subscription boxes. Handmade products or secondhand products are good options. You can even collaborate with already running stores. Use social media channels to attract the targeted audience. Showcase subscription boxes as a business entity. And remember, subscription boxes are great business ideas that could be built without code.



Dropshipping as One of the Ideas Built Without Code

Dropshipping is a great way to sell items without actually owning them. You have to convince small businesses to sell their products at your online store. This way has less profit margin but also less risk. Your website must be professional-looking and attractive for both the customers & vendors. Take care of SEO too. Those 20+ no-code tools will help out to build your online store:


If you want to have a trustable partner
to make all your ideas live
with no-code, we can help you.
WeLoveNoCode
is the biggest marketplace to hire no-code developers, who can build any business idea fast and affordable with the power of no-code technology. Want to learn more:
book a free consultation call.
No-Code Businesses Ideas: Final Thoughts

Having a business online comes with many advantages. Customers can buy what they need at any time via online platforms and it could be both your skills, products, or expertise.

That is why great business ideas implemented at the right moment can result in successful large-scale projects and millions of dollars in profit. Be confident as the sky's the limit. Confidently start your online business which matches your skills and experience. You can also learn about various no-code tools to boost your marketing performance and promote your project. Whatever you decide to do, the most important part is discovering your talent and enjoying the process.




No-Code Businesses Ideas FAQ
How to select a profitable online business idea?
You need to do proper research to find out the best no-code business ideas. Think of what you can do and what people need. This research might take some time. But only by properly analyzing the chances you will reduce the risks of failing.



What are unique no-code businesses ideas?
Unique projects can be those that are new to people in your area. Browse the Internet, find something interesting, and see if similar services are provided in your city. If not many, then this no-code business idea will be worth consideration.



What are small profitable no-code businesses ideas?
It depends on how much you are willing to spend initially and what skills you have. You can be a successful copywriter if you are perfect in English, have a reliable computer, and have a strong internet connection. In this case, you don't need to spend much. It can be one of the great no-code businesses ideas for a beginner.



What are business ideas from home?
There are many no-code businesses ideas available to consider. It can be providing services, tutoring, or selling staff. Suppose you want to open an online marketplace. In that case, you will have to invest in a professional website template, hire a couple of content marketers, take quality products photos, etc. All of this involves expenses. But in the end, this no-code business idea might bring you a decent income.


Get in touch with us, and we will help you implement any crazy no-code businesses ideas you have in mind with the power of no-code!