Since more and more enthusiastic people are trying to enter the digital market, it is vital to know several ways to differentiate your idea and overcome competitors at the very beginning. As a startup founder, you will probably face many issues on the way to success. And that's normal practice, as you will need to attract investors and develop either MVP to a full app for your project to realize your idea.

We developed this guide to help you learn several easy steps for app development and reaching investors. Regardless of the sphere, we are sure this article can become your starting point to amazing results in this challenging digital market. Let's start.


What to Choose: MVP vs. Full Product?

Startups need to carefully spend the money they have. This is because they will later need to update, add changes, maintain, and constantly improve the product according to market needs. Investors may also affect the app's idea and features during the development stage or even once you have the whole product. So it makes sense to start with an MVP.

MVP or Minimum Viable Product is considered to be an excellent way for startups to enter the market without wasting money or time. Even though MVP is a common choice for startups, large companies that want to enter the challenging industry also prefer to start with MVP. This is because MVP works best when you want to test your app and get valuable feedback from first users. This helps reduce costs for future development and improves the overall quality of the final products. This is because you will be able to change something before starting the main development stage and know in advance what your users like and don't.

In contrast, the full application can bring more value to those businesses that have already established their name in the industry. While the app development takes more time and money, the result also brings more benefits compared to MVP. However, it is an excellent option only for those who know their target audience, their behavior, and buying patterns.


Need help with building an app for a startup? We can help. We'll craft your next-gen app with a high speed and under $10k. Book a free call to talk about your project!

7 Steps To Develop an Application in 2022
1. Identify Idea and a Concept

Many startups fail because they didn't create a detailed concept of their project in the first stage. Even if you think that your idea is amazing and will surely bring value to the world. You have to understand that you can't just present your product to investors without describing what the app can do, how it is going to be used, how it will be monetized, and more.

Once you have an idea, we highly recommend you list everything you want to add to the future product. Then you need to stop and rethink again, following the notes and removing irrelevant things. Make a list of all your potential ideas. It will not only give you insights but also provides clarity about which idea to choose.

When you have several engaging ideas or are not sure it is worthy or not - present them to experts in your field. And in this case, it would be best to start with MVP first to test how the audience likes what you have made. After all, your unique idea, besides making you one of the most successful startups, is also solving a problem. This leads us to the next step.


2. Perform a Detailed Market Research

Regardless of the idea you have and its potential, it is essential to always know the market before entering it. In almost any sphere, you will probably face many competitors, so you have to know in advance how you will attract users. If you skip this stage and won't establish your target audience, you will likely fail.

Knowing your niche, competitors and creating a product-market fit is an essential thing you need to do as a startup. The main goal of the market is to find what are users' pain points and create the best ways to solve their problems with your product. There are several methods you can opt for when performing market analysis. Download the most successful apps to find out what they provide and in what manner.

You can also download those apps that failed to identify what the problem was and note yourself how not to do it. Particularly research can significantly eliminate the risk your startups will fail and help you better prepare for the development stage.

Also, this research will give you insights into who your future clients are and their age, locations, behavior, and more vital things. Knowing your users before meeting them already gives you a competitive edge in this market. Always remember, that user satisfaction and engagement is the key to your startup's success.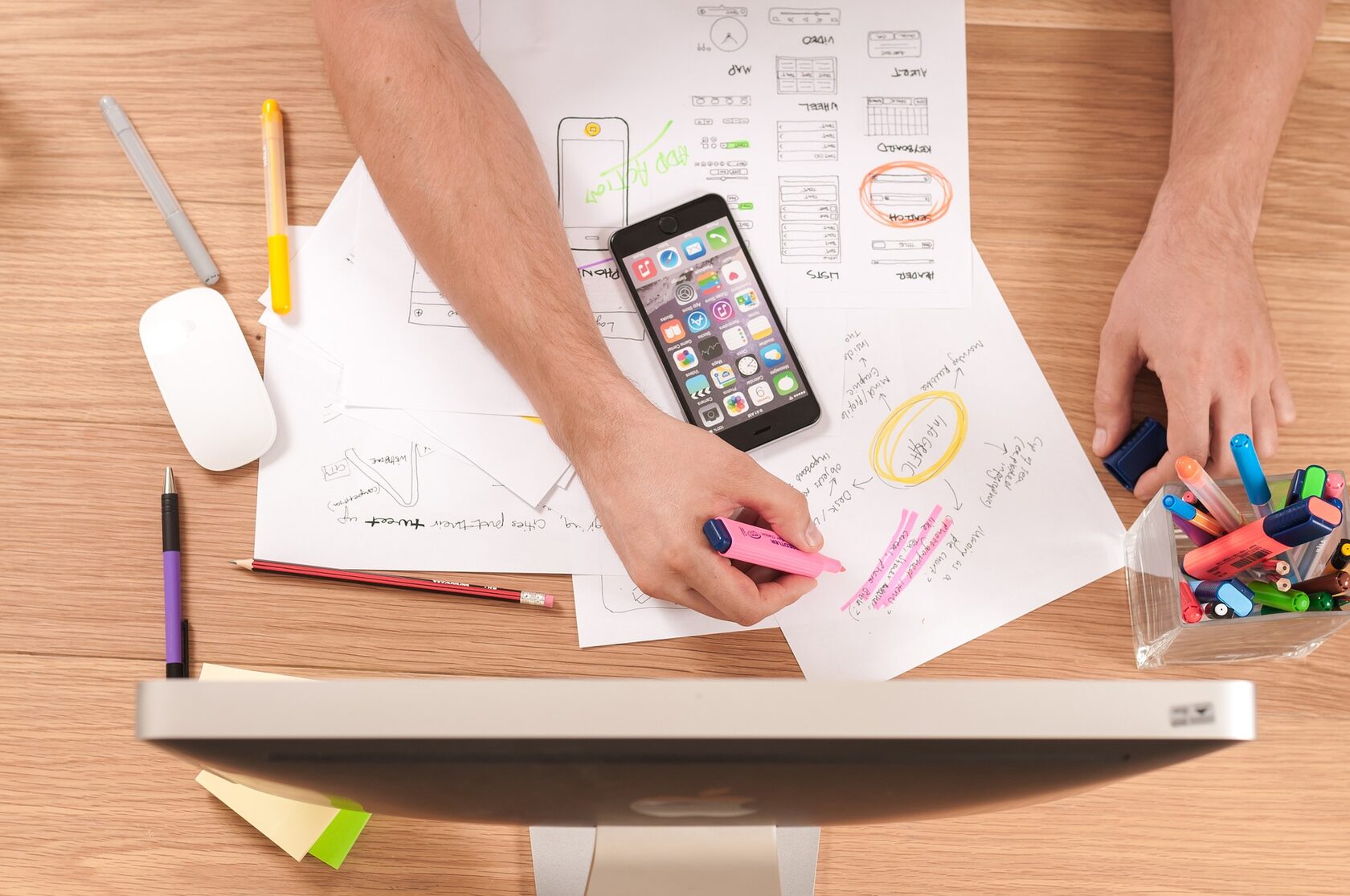 3. Choose an Ideal Platform

Once the research is done, you need to choose the best platform for your app. And the insights you get about your target audience will help here. This is also a vital step in the mobile app development journey. However, you should also understand what platform allies best with your project idea.

According to Statista, the Android marketplace offers over 3.3 million apps during the first quarter of 2022. This makes Google Play the app store the best choice for most people. Comparatively, Apple App Store is now the second app store containing approximately 2.11 million available apps for iOS.

Therefore, if you want to target a higher audience, you should develop an app for Android. However, it is always the best idea to craft a mobile app for both iOS and Android platforms to make sure all your users are able to use the product. This will give you more chances for success in the long term.


4. Do Not Skip Design

Statistics show that 70% of the app's success comes from the design. Even though some startups don't want to invest money in the design, it is a vital point. However, with no-code tools, you get a significant advantage. The technology used in these platforms allows your team to use engaging templates. You can also create your design from scratch.

The role of UI/UX design isn't just to attract users. This is the first thing users see when they come to your app. This is why it is essential to make the design appealing and simple. Do not overflow the screen with many elements. Provide a hassle-free and easy-to-follow interface with only relevant information. Additionally, your app's design has to meet the Google Material Design and Apple's Human Interface Guidelines.


5. App Development

Finally, you are ready to develop an application. While no-code tools can be used by non-experts, it is always best to hire a professional team. There are many reasons why you should choose a development company. The main reason is quality. Only experienced developers with the right skill set are able to deliver a high-quality product. In addition, you will also get a project manager and business analyst to help you perform market analysis and stay calm during the process.

However, it is best to first focus on MVP development. This will give you a great chance to learn about the market and test your idea. When crafting an MVP, address the core pain points and then collect users' feedback. After all, you will be able to improve features after garnering insights from your users. Make the emphasis on the 'must-have' features. But you can also add 'nice to have' features later.

You can make a wireframe that will solve a lot of problems. This is because it allows you to outline the layout of an app and will later play a key role in structuring the product. Practice shows wireframes provide vital insights into how potential users are going to engage with your app.


Need help with building an app for a startup? We can help. We'll craft your next-gen app with a high speed and under $10k. Book a free call to talk about your project!

6. Look for Raising Investment

If you didn't do it before app development, you would need to present your app to investors. And you will have a high chance to get investment with both MVP and full product. Luckily, there are many ways you can generate funds. Choose the best way for you that aligns with your business model – Seed funding, Bootstrapping, Crowdfunding, ICO, etc. Craft a Pitch Deck and make sure your idea and product can satisfy investors' needs. Check our free base of investors here.


7. Create a Strategic Marketing Plan

You built an application. You raised money. Now how can you make sure the app is standing out from the crowd? Startups need many resources to enter the market successfully and attract users. So the best way is to consider mobile app marketing. This can become a key startup success factor that will give you a competitive edge.

By applying compelling marketing methods, you will create the buzz around your product and make sure people love it from the first view. You can market your app through marketplaces, social media, influences, and other ways. Some app development companies can also help with app promotion as they provide marketing services.


How to Choose a Development Company?
Don't Opt For Price Only

While some startups try to find the cheapest option, it is worth mentioning that it won't be the best choice. You should not also opt for higher prices as that won't always mean high quality. Therefore, compare your budget and market to decide what company suits you best. You should also understand that sometimes the price may change during the process if you want to add more features or change something that has already been assigned.


Compare Experience

Since every sphere requires specific knowledge, make sure your chosen company has developers with the needed background. This will ensure the app meets strict industry standards and does not fail due to someone lacking experience.


Check Case Studies

Trusted companies are transparent. They pride themselves on what they have done. So you can easily check the company's previous works and find out whether you like them or not. When checking case studies, focus on the client's problem and the solution the company brought. Check the design of the product and the client's feedback if possible.


Learn Process

Before signing a contract with an app development company, book a free call to learn more about the company's process. You can ask various questions, meet people from the team and make sure you both like each other before starting the development process. When the company seems to be helpful, responsible, and transparent - do not wait to sign a contract! This will be your perfect choice.


How to Make an App With WeLoveNoCode?

WeLoveNoCode is a trusted no-code app development company that has in-depth experience in app & web development solutions in over 20 spheres. Being a team of top-notch experts, we create a team of developers with relevant experience who are able to make sure your product will stand out from the crowd and attract both investors and users.

Using the latest no-code tools, we can craft your app from scratch and launch it on a preferred marketplace. Whether you just came up with an idea, already have a concept, need MVP development, or are ready to build your next-gen app, the WeLoveNoCode team can cover all your needs!


Bottom Line

Startups have to be prepared for many challenges during their journey. Therefore, it is always best to know in advance what to expect and how to prepare. You can start with an MVP and present it to investors or come up with a full product to enter the market successfully. However, it is vital to choose a trusted no-code app development partner who will support you throughout this challenging process.


Need help with building an app for a startup? We can help. We'll craft your next-gen app with a high speed and under $10k. Book a free call to talk about your project!