Some businesses spend tens of thousands of dollars and wait months for a custom-built brand new website, that might be difficult and costly to maintain later. But it does not have to be this way. The growth of no-code website builders has been incredible over the last 10 years. It enables people to build some very attractive, sophisticated, and powerful websites for a fraction of the cost. It also takes less time. Instead of many months, you can create a product in days. It is all possible with no-code power (here, you can learn all the benefits of using the no-code approach).


Book
a free consultation call
with
WeLoveNoCode
, the biggest no-code marketplace with
17k no-code experts
available, and build your product without delay!

Businesses used to decide between a web agency or a contractor to build a professional website. But with platforms like Wix, Tilda, WordPress, Bubble, and Webflow, a third option arrives, a no-code website creation. No-code platforms provide you with speed and cost-effectiveness. You now can build the site yourself or employ no-code partners that work on these platforms. Cooperating with no-code agencies like WeLoveNoCode is now the most popular choice for businesses, particularly for startups and SMBs in all sectors. This article will guide you on the necessary steps of creating a website without coding yourself or with a trusted no-code partner like us.




What Is A No-code Website?

A no-code website is a landing page built with the help of no-code website builders and platforms. It can be a fully functional multi-page website with comprehensive logic, various functions, customer-management systems, animations, and basically every feature of a custom-code build website. No code website reflects the way how the website was built.

Moreover, it's possible to build the full product with the help of no-code, not only a website. Now let's dive deeper into how you can do it for your business. To give you some inspiration, these companies built their whole business purely with no-code technology.


Start Building Website with No-code

Whether you have decided to build the website yourself or employ a contractor, you need an MVP. It is a Minumum Viable Product that will help you understand if your future product will deliver on your expectations. You need MVP for both website build with no-code or a traditional custom coding approach. Learn how no-code can help you with MVP in our simple guide.

So, before actual product development, ask yourself a series of fundamental questions: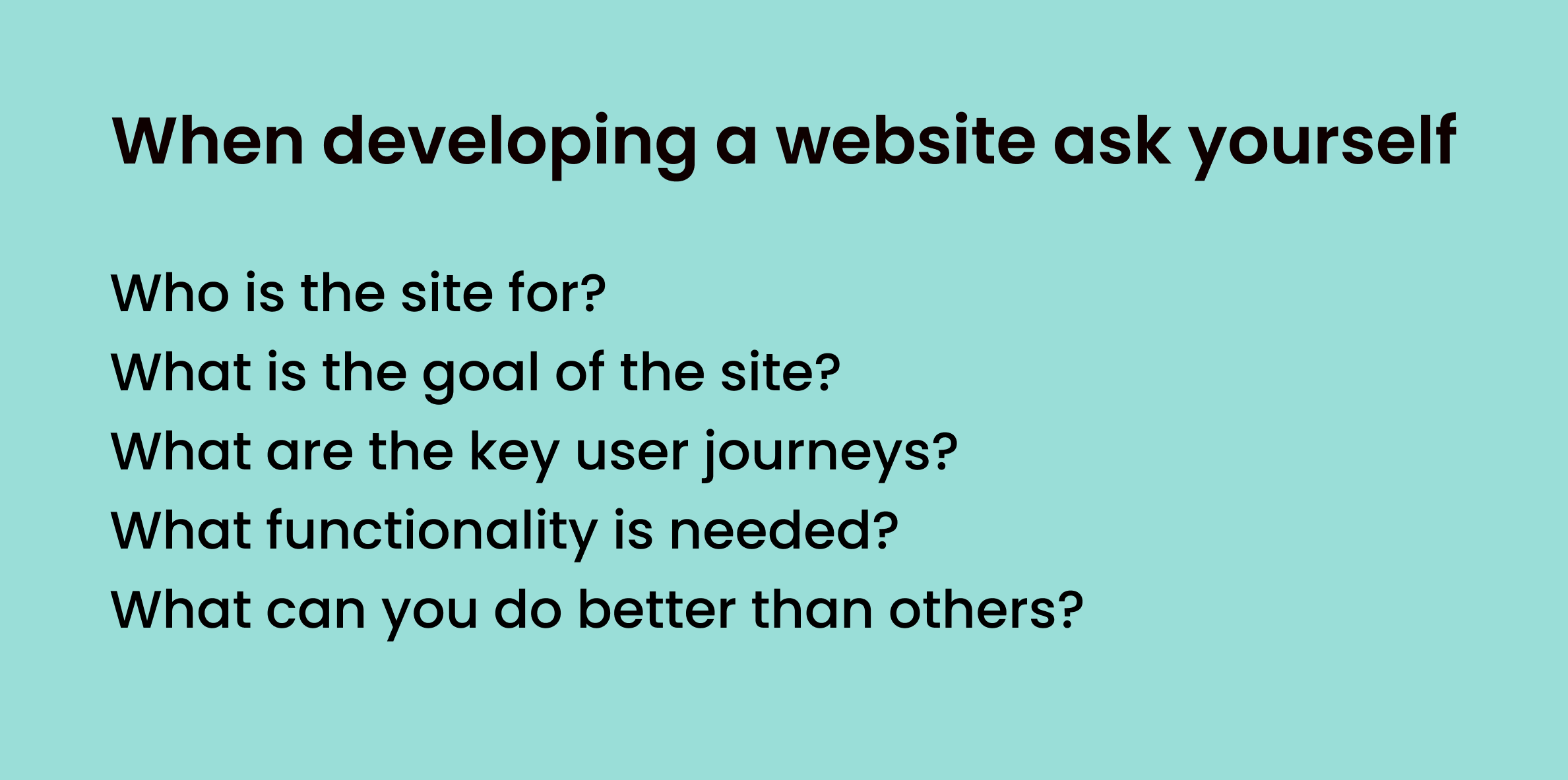 Who is the site for? Define the personas of the targeted audience.
What is the goal of the site? Is this an information-only website? Or do you want people to make inquiries, or is it a fully functional eCommerce venture?
What are the key user journeys? Articulate what you expect the user to do when they arrive on the website. What journeys will they take around the site to achieve their purpose?
What functionality is needed to achieve their goal? Does it need to stream media? Should it allow people to download documents? Do they need to purchase something? Write out all the key functionality that the site must allow the user to do.
What can you do better than your competitors? If there are sites that you like and want to use as inspiration, make sure these are added to your MVP.
No-Code Builder or No-code Agency?

If you are building the site yourself, use this guide to select the right no-code builder. Suppose you have decided to get freelancers to develop your website. In that case, they will be able to use this guide to send you a proposal, and within that, you would expect them to suggest the platform they would use.

Decide on the package you take with the no-code platform. Most tools have hosting included. The pricing plan you choose will also dictate the functionality available. One final note, the free versions will usually mean the platforms logo will appear on your website.


Consider partnering with
WeLoveNoCode
. We have 3000+ professional no-code developers available to make your project live in days! Just
book a free consultation
and tell us what you would like us to help you with.
What are the Best No-code Website Builders?

When it comes to no-code website builders, the number of options available to you is vast, so we have put together a top 5 list of no-code website builders.


Wix - A leading no-code platform where you can choose from a large selection of templates. It is very flexible from a design perspective and has very affordable pricing plans.
WordPress - The most popular content and blogging website builder, packed with themes to choose from and over 54,000 plug-ins. It has both free and premium options.
Squarespace - Another well-known tool. It is used a lot by artists and those looking for a well-designed site. Squarespace is one of the easiest no-code website builders for novice no-code users but lacks advanced features.
Webflow - One of the more progressive no-code builders. It is often considered as an upgrade for those who have outgrown a platform like Wix. It has an intuitive and user-friendly interface. Once you've mastered basic Webflow, you can use more complex features to get a powerful web-building experience.
Bubble - This no-code platform has been around for over 10 years and does much more than just build websites. It's very strong capabilities come with a powerful drag and drop interface that will take a little time to master.
It's Development Time

So, now you have defined your persona and goals. Start developing! Here is a checklist of bullet points to consider when developing.


Write out a list of all the pages you will need on the website, refer to the MVP you have built for guidance.
You can now build prototypes for the list of pages. This is a simple and code-free way of highlighting what you want on each page, a list of suggested images, content sections, forms, etc.
Next, you will need to choose a template or theme for the website. This will give a series of standard layouts that you can utilize. For example, a template homepage, blog page layout, shopping cart, etc.
Create each page, starting with the home page and working down through the hierarchy. Follow your prototypes and select the best images alongside the content you add to each page.
Now you need to ensure your website is optimized for mobile devices. All of the no-code website builders will have the ability to render your website on different gadgets, including PCs, tablets, and smartphones.
Now it is time to test your website.
How to Test Your Website?

This is a critical phase that people don't always allocate enough time. The good news is that by using a no-code platform to build your website, you will find fewer bugs than with a traditional website build. This is because you are using less custom code. The no-code platform you have selected has already rigorously tested the features included in your no-code website.

Utilize your internal team and friends & family, getting them to use the site to give feedback on any problems they find. Traditional issues to look out for are:


Broken links
Links that take you to the incorrect destination
Images that don't load
Poorly written content

Ask those testing to feedback what they find into a dedicated document and work through the changes required. Keeping one record will help you avoid going through multiple occurrences of the same bugs. You can also sign off the changes as you fix them in that document.




Let's Wrap It Up

As you will see above, it is perfectly possible to build a website without coding. Write yourself a plan, select the no-code tool that's right for you and then get going. The sooner you start, the sooner you will have a brand new website. Building a website without coding is actually faster than traditional approaches.


We are here to support you with all possible resources. We can also help you find a
qualified no-code developer
to launch your site in no time.
Book a free consultation
and tell us more about your idea today!