You definitely know about no-code if you are a product manager, designer, maker, or startup founder. No wonder, since no-code tools and platforms are booming while creating products with no-code is becoming more and more popular.

Digital companies dedicate their time and efforts to create insightful online events for no-code enthusiasts and product-minded people, just like you. Bringing to life new projects is greatly simplified and requires less time with no code. This positive product vibe, combined with growing interest in no-code itself, boosted the amount of really amazing events in 2022. That is why there are a lot of new events related specifically to no-code and low-code happening all around the globe!

Discover 33 conferences in the no-code, design, product spaces which will be useful for all product & no-code enthusiasts will


Hey, friend! Kudos from WeLoveNoCode, the biggest marketplace to hire no-code developers, who can build any business idea fast and affordable with the power of no-code. Want to learn how we can make your idea live in 4 weeks? Book a free consultation call.

No-Code Conferences for Product People

We have selected the top ones for you to attend in 2022, both online and offline. As a nice bonus, you'll find design and product conferences worth your attention as well. Here you will find a list of events held this year and those worth your attention from previous years you can watch virtually.


No-Code Conf 2022 by Webflow
Creatio's Low-Code/No-Code Events
LowCodeCon
Low-Code/No-Code Developer Day 2022
Minimum Viable Conference
Zero Code Conference 2020
ZapConnect 2021
Low Code/No Code Developer Day 2021
Popular No-Code Conf 2022 by Webflow

No-Code Conf in 2020 and 2021 brought around 18,000 talented no-coders together across 135+ countries. Enterprises like Adobe, Apple, Airtable, Google, and other powerful companies shared their bright ideas with a wider audience. You can watch session recordings and sign up for 2022 updates. We are sure this year the event will be unforgettable too. Keep an eye on the event and consider it on your bucket list.


Where? Unannounced yet
When? Unannounced yet
Who? Webflow
How much? Unannounced yet
Top Speakers
Trevor Noah, one of the best American comedians, with a broadcasting conversation about business growth.
Debbie Milman, the author and illustrator, covers visual development and design.
Vlad Magdalin, the CEO and a co-founder of Webflow, talks about the project's growth and collaboration.
More info
Creatio's Low-Code/No-Code Event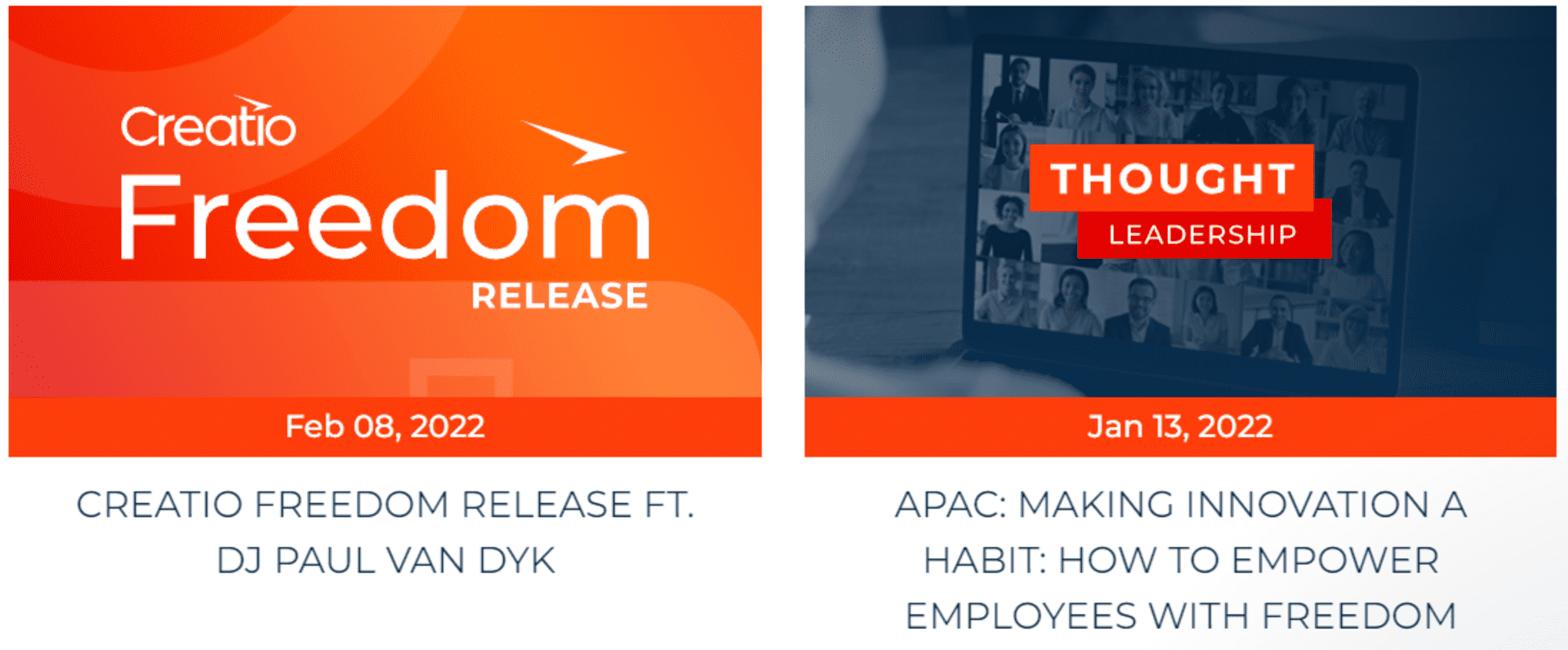 Do you want to learn the brand new low-code/no-code trends? It is your chance. Creatio's event is a must-attend for practitioners, like digital leaders, IT executives, and citizen developers. The event also investigates the function of no-code technology in digital metamorphosis in different industries. Benefit upscale discussions and analysis with niche-leading professionals and top experts. Tap into this digital uprising at the right time.


Where? Online
When? 8 February, 2022
Who? Creatio‍
How much? Free‍
Top Speakers
Paul Van Dyk, an international DJ and Grammy-nominated artist, with a capturing digital show.
Katherine Kostereva, CEO and Managing Partner, Creatio.
Vsam Sibley, Global Head of Citizen Development, PMI.
More info
LowCodeCon for no-code enthusiasts

Searching for the event to learn more about working with low code applications? LowCodeCon is what you need. You will know more about digital government transformation, enterprise solutions, and hands-on tutorials during the no-code conference. Besides, you will hear about real-life examples of how low-code solutions have transformed all kinds of business projects.

If you want to become a speaker, they are still looking for people to join their awesome no-code event. Don't miss an opportunity to tell others about your achievements in the no-code space!


Where? Online
Who? LowCodeCon
When? Unannounced
How much? Free‍
2021 Top Speakers
Lord Francis Maude, the Chairman and co-founder of FMA.
Jakob Freund, the CEO of Camunda, covering Digital Transformation: Evolution or Revolution.
Alex Case on Public Services Build By Users and Delivered by Robots.
More info
Low-Code/No-Code Developer Day 2022
This one-day no-code event intends to help organizations comprehend low-code and no-code tools, their practical use, and possible outcomes that they can deliver. Developer Day gathered nearly 600 attendees the previous year and wants to beat this record. All sessions will be 20 minutes long and will be pre-recorded. It means that you don't have to be available at a particular time and revise recordings later.

You can also join the event as a speaker. Remember, they are looking for vendor-neutral talks that will inspire others.


Where? Online
Who? D2 Emerge LLC
When? 13 April, 2022
How much? Free‍
2021 Top Speakers
Jenna Sargent is the News Editor for SD Times and ITOps Times.
Jason English, the Analyst from Intellyx.
Michiel de Bruin, the CSO at Odessos.
Jason Beres, the SVP, Developer Tools at Infragistics.
More info
More No-code Events to Watch Online

While not all conferences announced 2022 editions, you might still consider awesome events from 2021 that might run this year. They include:



Need help with building your app without coding? We launched 2000+ MVPs & apps for companies all around the world. We'll make your app live in a few weeks and under $4k with the power of no-code. Book a free consultation call to chat about your requirements!

Bonus: Design and Product Conferences in 2022

No code helps you create projects very fast. At the same time, you also might be interested in the design and product development part to learn more about new design trends, tips, and tricks to make your UI usable and accessible. Web design has come a long way in the last few years. But a product-centric movement is a whole new industry.

Creativity and technology are the two fastest-growing industries globally, so it is not surprising that recent trends are constantly emerging in web design. User-friendly navigation, data security, and fast page loading have always been in demand. Those just some of the topics which you will find on the design and product events in 2022.

Take a look at these great design and product conferences available for the community to learn what techniques to follow to beat the competition and stand out from the crowd. Especially if you want to understand more about delivering a new product or enhancing a current one for your loyal or potential clients. This year holds many great events for everyone who would love to step in and know more about design and product development.



Interaction Week 22 for Product People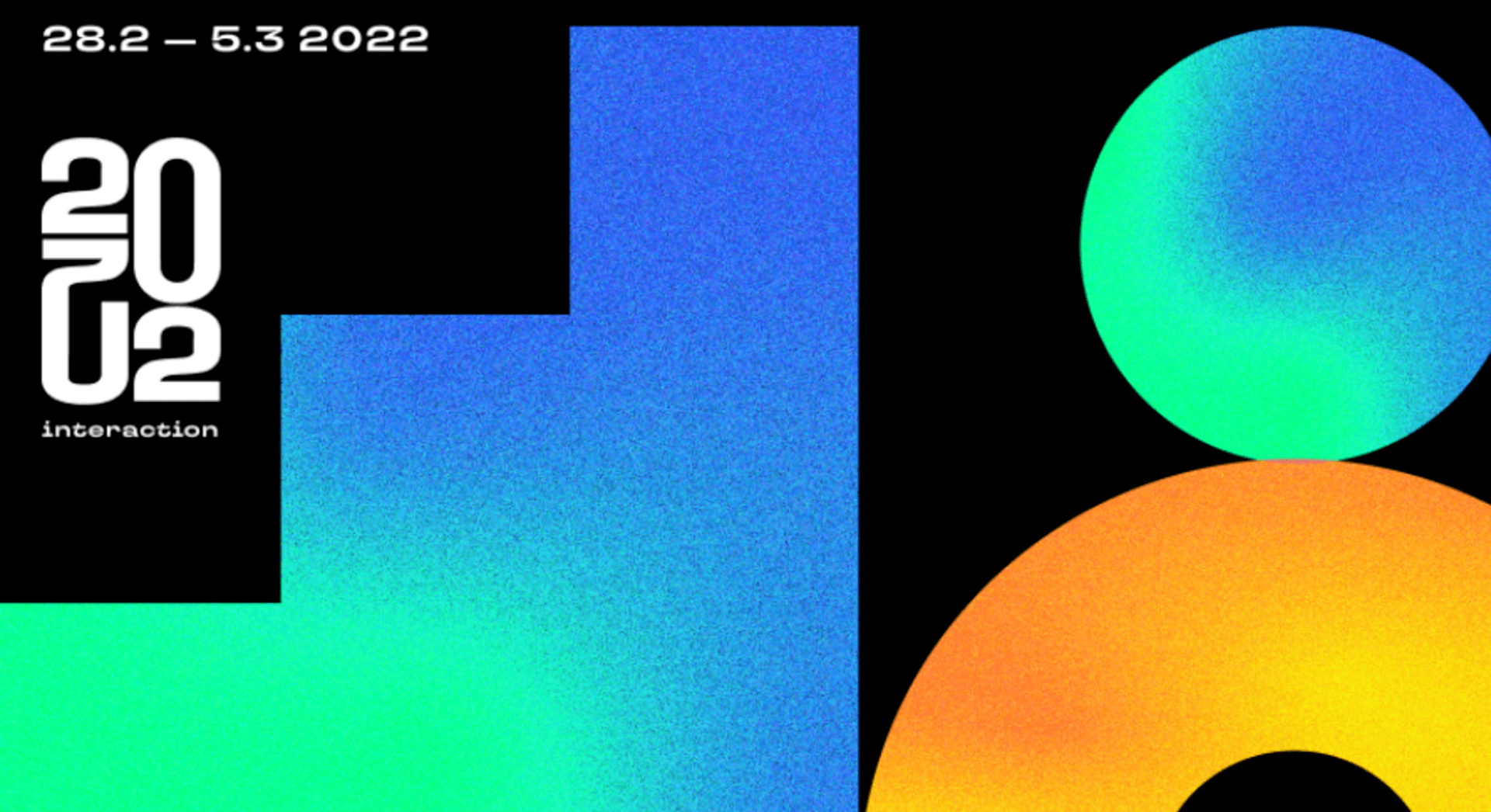 Are you interested in UI & UX, customer journeys, user research? Then Interaction week is what you need. Various topics will be discussed during the event, including UX, human-centered design, interaction design, etc.


Where? Online
When? 2–4 March, 2022
Who? Interaction 22
How much? $175 for students and $500 regular ticket
‍
More info
UX Conference

UX Conference offers you 100% live interaction and 36 different UX topics, including UX basic training, customer-journey management, usability testing, and much more. Besides, NN/g UX Certification is an exam-based credential, which means that by attending it, you can boost your credibility.

Where? Online
When? 12–18 February, 2022
Who? Nielsen Norman Group
How much? $924-$6136
‍
More info
Front Utah

Mark in your calendar this interesting event. Product strategy, product growth, and the power of leadership topics will be discussed for 3 days. Besides, you get 16 talks with audience-led Q&A, and more than 800 product designers and managers will share their experiences with you. Learn how to create something great and valuable for the end-users with Front Utah.

Where? Salt Lake City, Utah
When? 6–8 April, 2022
Who? Front Utah
How much? Tickets for early birds come with a 30% discount.‍
Top Speakers
Chris Fryer, Chief Product Officer.
Jared Lewandowski, Director of Experience.
Ethan Medeiros, Sr. Dir. of People Ops/Talent Acquisition.
More
info
Confab

Are you a content manager? Attention, attention. There's an event dedicated to boosting your skills. Moreover, you can get valuable insights from industry leaders on content strategy. Topics discussed cover building career, content management/strategy, handy web tools, etc. Hurry, you can still register since the event will happen in May.


Where? Minneapolis
When? 9–12 May, 2022
Who? Confab
How much? the price depends on a package‍
Top Speakers
Gavin Austin from Salesforce will cover Outcomes of an audit: Easy solutions to hard problems.
Rebekah Baggs from ONWARD will talk about User-centered SEO and design findable content.
Ryan Bigge from the Royal Bank of Canada will share his thoughts on how to boost the value of your content team through storytelling.
More info
Industry Conference

This event will shape your thoughts on what your customers truly need. It will help you focus on higher-level strategies and be more confident about testing your ideas. You will also learn to prioritize features, build out the roadmap, and manage your team better.


Where? Online
Who? Pendo
When? 18 October, 2022
How much? $99–$599
‍
More info
ProductCon

Organized by Product School, this conference attracts more than 100,000 visitors. Sponsored by Bloomberg, BBC, and other powerful companies, ProductCon gathers over 15,000 product experts worldwide. It takes place online in San Francisco, New York, and London.


Where? 3 cities + online
Who? Product School
When? 4 options
How much? Free‍
Top Speakers
Gibson Biddle, former VP of Product at Netflix.
Minal Mehta, Head of Product at YouTube.
Alex Shih, Slack Staff Product Manager.
More info
UXDX APAC

Speakers from Philips, Shopify, eBay, and other product monsters were past speakers of the UXDX APAC event in 2021. And this list is not complete. Wondering who will attend in 2022? Check out the official platform. The promising event will cover case study talks, the latest web tools, deep-dive forums, and fun activities.


Where? Virtual and physical location TBD
Who? UXDX
When? 22–24 Jun, 2022
How much? Ticket prices will be announced shortly.
2021 Top Speakers
Dan Harper, Senior Engineering Manager at Xero.
Preethi Mariappan VP, Design & Architecture at Visa.
Jasper Wu, Chief Experience Officer at U-Next.
More info
Mind the Product Conferences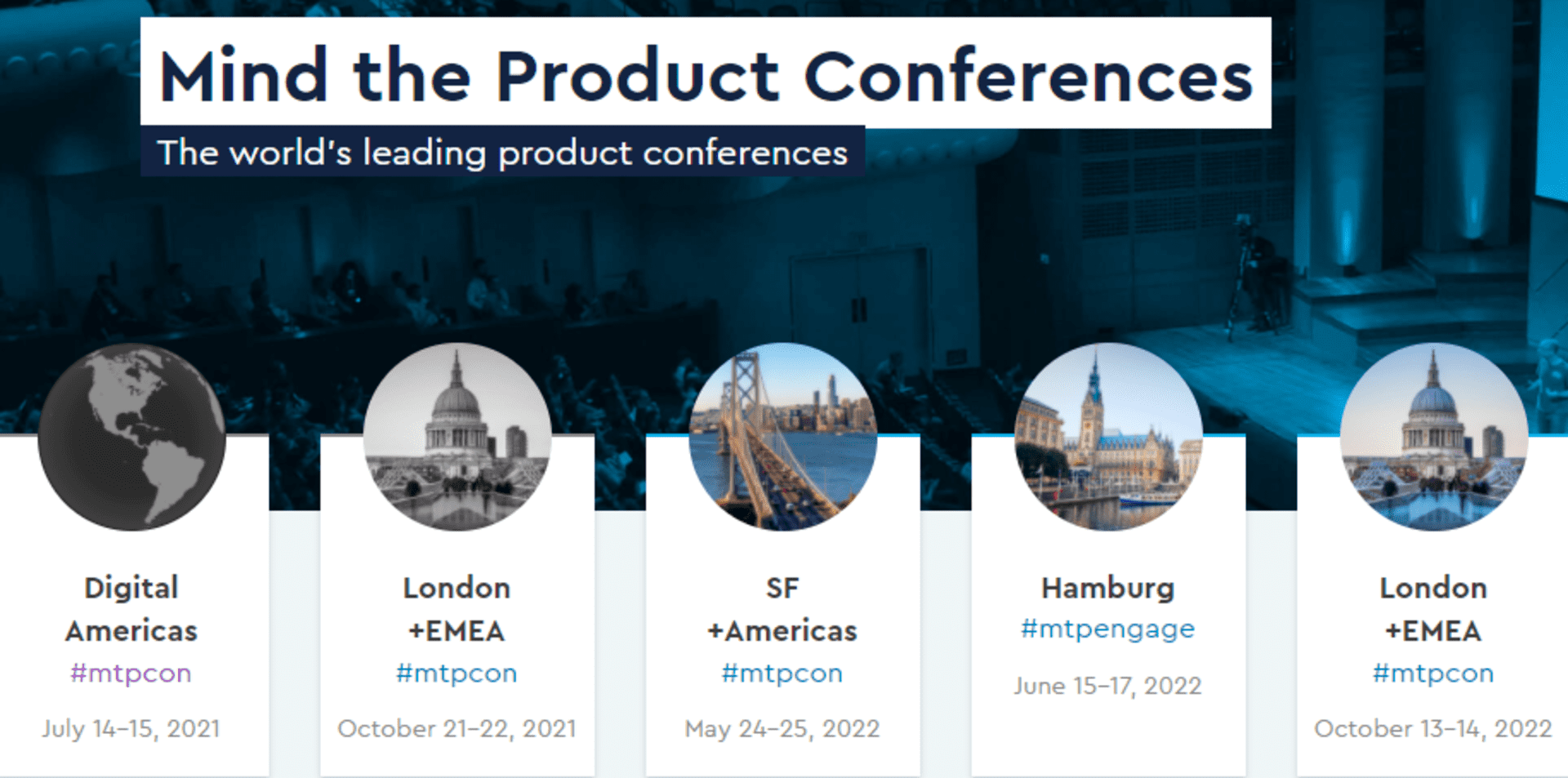 Mind the Product is the largest product-dedicated management conference worldwide. It is held in San Francisco, Singapore, London, and Hamburg. You can select any suitable option from in-person meetings, online, or mix. If you choose a virtual event, you can ask a question posted online, and a speaker might answer it. So, you will get a customized answer, especially for your concerns.


Where? Virtual and physical location available
Who? Mind the Product
When? 14 July–14 October, 2022
How much? Ticket prices vary.
Top Speakers
Nikkia Reveillac, former Head of Research, Twitter.
Claire Vo, CPO at Color, former CPO at Optimizely.
Lenny Rachitsky, Writer, former Product Lead at Airbnb.
More info
ProductLed Summit 6


Do you want to learn what it means to be product-led? Do you want to know how to build a successful product-led growth strategy? The PoductLed Summit is what you need. Expert B2B SaaS professionals will uplevel your product-led growth strategies and share their playbooks that enabled the development of well-known enterprises.


Where? Virtual
Who? ProductLed
When? on-demand online
How much? free
Top Speakers
Wes Bush, Founder & CEOProductLed.
Francis Brero, Co-founder & CROMadKudu.
Mei Luo, Senior Product ManagerPendo.
More info
Women in Product Conference

This event not only teaches how to build a victorious product-led development strategy. You and other women will also get inspired and encouraged to reach leadership roles in the product development industry. Feel the power of women coming together.


Where? Virtual
Who? Products by Women
When? 10-11 May, 2022
How much? Prices vary
Top Speakers
Prashanthi Ravanavarapu, Senior Director of Product Management, Consumer Financial Services, PayPal.
Ivor Horn, Director, Health Equity & Product Inclusion at Google.
Anne Diaz, Product Manager, Anti-Discrimination at Airbnb.
More info
IT Arena 2022

In previous years IT Arena gathered more than 5000 participants, around 100 remarkable speakers, and more than 120 hours of useful content. This year will be even more exciting since it will be held in a hybrid way. It means that you have an opportunity to meet people physically and virtually, depending on your location and preference.


Where? Lviv, Ukraine
Who? IT Arena
When? 30 September–2 October, 2022
How much? Prices vary
2021 Top Speakers
Maye Musk is a role model, trend maker, and rule changer.
Dave Karow, continuous delivery evangelist in Split.
Errol Koolmeister, former head of AI Foundation at H&M.
More info
The 4th Annual DesignOps Global Conference

Do you want to analyze critical points in user research, UX, UI, and service design? Join the 4th Annual DesignOps Global Conference. Get Access to all video content archives for 12 months to not miss anything. Moreover, you can select among many FREE workshops to upgrade your skills.


Where? Virtual
Who? DesignOps
When? 14–16 June, 2022
How much? Prices vary from £530.00 + VAT to £1200.00 + VAT.
2021 Top Speakers
Kelly Ann McKercher, the designer at NSW Health Pathology.
Kassie Chaney, the director of User Research and Inclusive Research Practice.
Adrienne Allnutt, the director of Design & Research Operations at LinkedIn.
More info
Need help with building your app without coding? We launched 2000+ MVPs & apps for companies all around the world. We'll make your app live in a few weeks and under $4k with the power of no-code. Book a free consultation call to chat about your requirements!

Additional Product Events for no-code enthusiasts

For those of you who are looking for even more product-focused events, keep an eye on free webinars provided by:


The Product Folks events.
Product Hunt events.
IndieHackers events.
ProductTunk evens.
Who Should Attend No-Code, Design, Product Events?

These events can be useful for product-minded people interested in web design and no code. Conferences will benefit both beginners and professional web designers who want to get inspired and find new ideas. As well, discussions might be helpful for:


Business owners. Find business automation tools and optimize your project's costs. You can also learn to quickly and cheaply build functional MVPs for IT projects without code.
Freelancers. Learn new tools and increase your value in the market.
Developers. No code enables you to develop any product much faster. Find out how to speed up a process and meet all deadlines.
Founders. No code boosts the founder's experimentation. It means that you will get a lot of useful information on effectively using the tools available.
Designers. Events will help you understand how to obtain accurate data to conclude which UX & UI better serves real users. They will also learn what "front-end" or "back-end" is and how different design flows can be combined under one hood.
No-Code Events FAQ
What is a no-code conference?
No-code conference is an event dedicated to no-code techniques you can apply to improve your project. The choice of a particular event depends on your interests. This year, there are many great events for no-code enthusiasts, product managers, and web design professionals.


What is a no-code Webflow conference?
It is an event dedicated to IT enthusiasts. Due to the pandemic, the last two events were held online. You can check out its recordings. Most probably, this year, it will also be virtual, so you can watch it online or consider its recordings later on.


When will the low-code conference take place?
All of the events listed above will be accessible this year. If you miss any, please consider watching a session recording from 2021 to relieve the experience.


How much does it cost to attend a low-code conference?
Each event varies in price. Some are free, some offer additional services at low cost, and some are rather expensive. But you can purchase a ticket with a substantial discount as an early bird.



Our Final Thoughts

It seems as if 2022 is going to be full of inspiring events hosted by the best speakers in web design and product management. Have you found a conference for you? This list is by no means exhaustive. If you know of great meetings not on the list and think they should be, please let us know. We'll keep updating this list if any new event worth your attention comes our way.