No-code platforms emerged as a response to the complexity and diversity of modern software development tools. Now almost all processes are striving for simplification and automation. No-code is a great approach for any enterprise that needs some independence and flexibility. This article will discuss all the pros and cons of no-code for enterprise and the most reliable no-code tools available for product development. Let's dive in!




What is No-code for Enterprise and Its Difference from Low-code

No-code is more about web development and creating your own services from ready-made templates. With the help of low-code, you can quickly modify, improve and expand work with business processes and analytics. Launching a product with no-code for an enterprise will cost four to five times less than developers' involvement. Moreover, no-code development might be three times faster than traditional coded projects.



Pros of No-code Enterprise Application Development

There are many advantages you get for your enterprise with no-code development. They include:


Reduce expenses. Programmers are quite expensive experts, and rarely can a small business afford them. For example, to assemble an online store for the delivery of flowers, an owner will have to pay at least 5 thousand. Whereas no-code platforms cost is cheaper, making your site on Tilda will cost $20 per month.
Manage easily. To make changes to business processes using Low-Code technologies, an analyst does not need to involve development - all these systems work with BPMN 2.0 notations. This solves one of the key problems of digital business transformation - it speeds up procedures from an idea to a project. Moreover, graph databases through no-code allow you to make changes to business processes without stopping work or blocking access.
Join innovation. In recent years, the concept of no-code has become one of the most trendings. A huge amount of money is being invested in this area. The number of no-code-based startups is increasing almost daily.
Looking for the best no-code platform? Get in touch with us and we help you choose the best no-code tool for your enterprise. Book a free consultation call to chat about your requirements!

Disadvantages of No-code for Enterprise

Although there are many advantages of no-code development, many users believe that no-code can be quite:


Costly. Yes, no-code is cheaper than a team of developers, but all the same, the no-code platforms also cost some money. Suppose there are more than 10 thousand customers. It is cheaper to develop your own solutions than paying $150 monthly for automatic mailing offers with flowers.
Not easy to scale. It is difficult to add new sophisticated features to a product created with no-code. This is where programmers are needed. Technologies develop, as do the needs of a startup, design, or business trends. How to customize your enterprise if the platform exports everything to a binary file that only it can read?
Top No-code Tools for Enterprise

There are many great tools to use for no-code product development. Here is a list of the most reliable ones you should consider for your enterprise.



Bubble

Bubble is a service for creating a web or mobile application. The service is based on the concept of visual programming — the drag&drop technology allows you to add any element to the page that a no-code developer or service creator wants. Everything can be configured, from the video location and text to icons, buttons, and their parameters.

Bubble also allows you to structure and store all data, create custom logic, logistics within the service, and apply UX design. In fact, the user can create an object for a page of his site of any type or kind and drag it to the place on the site where it should be.



At the same time, Bubble notes that if the user has basic knowledge of HTML and JS, it will be much easier for the user to create a website and build custom logic. In addition to the front-end, Bubble allows you to make the entire back-end component. Develop a registration form and set where a user account is created, how to remember his data, and how to display previous orders.

Bubble also enables you to process users' data and connect to many third-party services. It includes metrics, user behavior analysis, and integration with social networks, cards, or banking acquiring. The cost of the service ranges from a free personal blog to $475 per month.



Tilda

Tilda is perhaps the most popular example of the no-code platform concept in Russia. With the help of Tilda, users can create their own site without programming skills. The service is based on the block principle of creating pages. The user can select the desired template, customize the appearance, add content and immediately see what the site will look like.

Tilda has fewer personalization options than Bubble but is much easier to use and has friendlier and more intuitive interfaces. The Tilda library has over 450 template blocks designed by professional designers using UX systems. They are divided into 28 categories: cover, store, about the project, services, contacts, and many others.



With Tilda, users can create their site in hours. It is a fairly simple service that does not require additional settings and does not imply further scaling. At the same time, Tilda automatically offers rather complex tools, for example, generating UTM tags or integrating with CRM, online chats, and payment systems. Tilda is free to use, but you will have to pay from $20 per month to create full-fledged sites.



Zapier

Zapier is like a glue that holds thousands of web applications together. With the help of Zapier, you can integrate various services. For example, our online store of house plants has a feedback form. Zapier automates the integration and, accordingly, the expansion of the functionality of services.

Zapier now has over 2k integration options, including web apps like Google Sheets, Mailchimp, Hubspot. Zapier costs about $20 per month.


Adalo

Adalo is a platform that allows you to create interactive applications very quickly. Although the Adalo platform is similar to Glide, it emphasizes drag-and-drop visual development, allowing users to see the project alive. Adalo also offers the possibility to develop mobile applications for publication in the Apple App Store and Google Play and pretty affordable packages.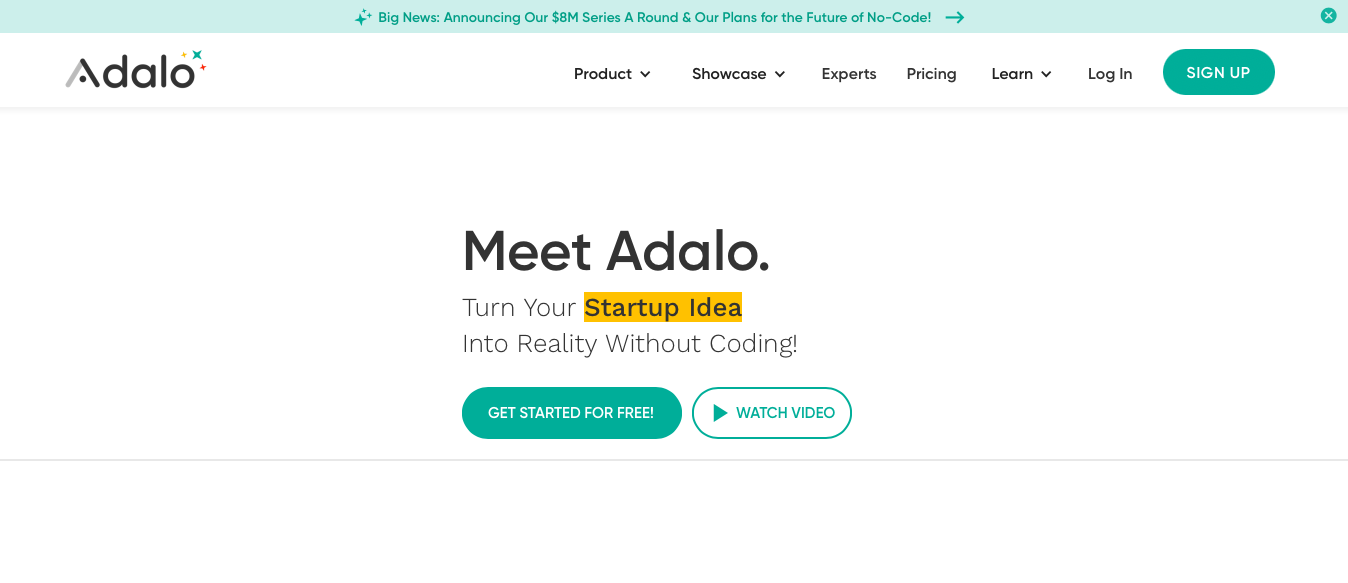 Looking for the best no-code platform? Get in touch with us and we help you choose the best no-code tool for your enterprise. Book a free consultation call to chat about your requirements!

Bravo Studio

Bravo Studio is a tool to create applications that don't require coding. Although this platform has a very nice toolkit for building applications, it is much more than that. You can enrich the application's appearance through various graphic elements and effects. In particular, it supports the integration of third-party APIs. This allows you to create complex applications based on it, giving a nice look to external data. Bravo Studio also helps developers with testing and publishing applications.


Thunkable

Thunkable is a platform with a simple and user-friendly interface. It is known that the application development process includes such steps as planning and implementation. When planning the functionality of applications, the ability to quickly test various hypotheses is very valuable. Thanks to the speed of development available, with Thunkable, you can quickly test their ideas with potential users.


Voiceflow

Voiceflow is a tool famous for its user interface. It allows you to create apps for Amazon Alexa and Google Assistant, maximizing the range of users who can access those apps. Using this platform is very simple. The creation of voice applications is done in a visual mode, without writing code.


Looking for the best no-code platform? Get in touch with us and we help you choose the best no-code tool for your enterprise. Book a free consultation call to chat about your requirements!


There are also other no-code tools. Check a complete list of no-code enterprise application development platforms here.